Portland, Oregon artist Bonnie Meltzer makes very mixed media figurative and abstract constructions which transform everyday objects, crocheted wire, digital photographs and painted wood into textured layers of social commentary, personal history and humor.
See images of the studio on Fliker here.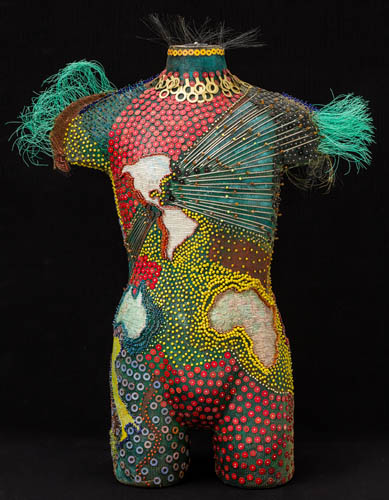 CONNECTED

maps, beads,
found objects,
fabric, wire
on mannequin.
To see
news
&
events
scroll
right

2015

ON THE FRINGE -
TODAY'S TWIST ON FIBER ARTLake Oswego Festival of the Arts
Lake Oswego, Oregon
https://www.lakewood-center.org/pages/lakewood-Festival-Date-2015
2014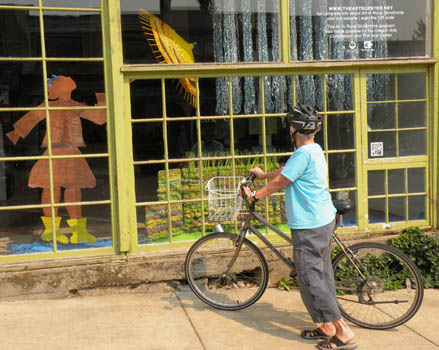 Fall 2014

RAIN MAKES THE GRASS GROW ...and everything else
Window Installation

Art in Rural Storefronts
109 Spaulding
Brownsville, Oregon

Bonnie Meltzer was selected by the Corvallis Art Center and the city of Brownsville to create a window installation. Special thanks to The Art Center, Maze - - art and fronteir, and the Oregon Arts Commission.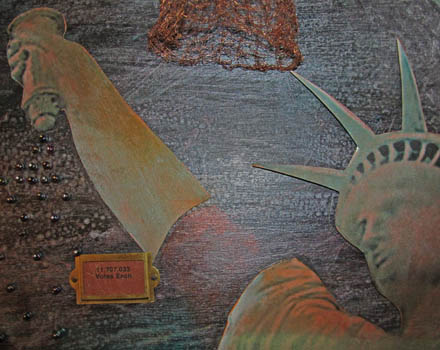 ..
November 2014
Reception, November 5
2:00 - 4:00

ART GETS POLITICAL
group exhibition

Concordia University Library
2900 NE Liberty
Portland, Oregon

Bonnie Meltzer has 11 artworks in the exhibit including some from her coal-climate change series.
..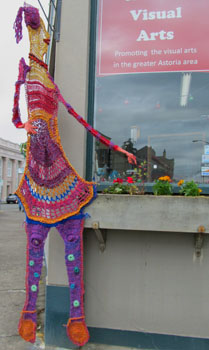 2014


Astoria Yarn Bomb
installation

Astoria Fiber Arts Academy
1296 Duane
Astoria, Oregon

She will be there until she weathers. You can't miss her., she is 9 feet high.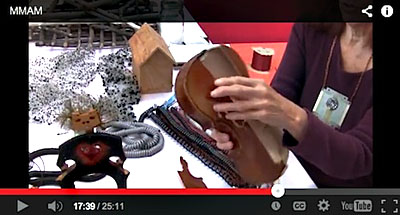 Article and Video
MIXED MEDIA ART MAGAZINE

The article includes a video in which Meltzer shows the decision making process about what and how to repurpose found objects.
See here.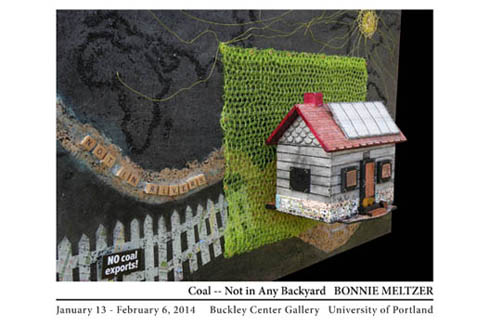 ..
..
News Articles About the Exhibition

PORTLAND TRIBUNE, Sustainable Life
feature story with 2 pages of pictues and text
2013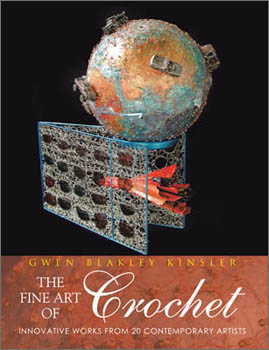 New Book
THE FINE ART OF CROCHET
Gwen Blakley Kinsler
Meltzer sculpture on the cover and a chapter about her inside.
Order from Amazon
and see a preview here
This sculpture will be at the January 2014 exhibition at the University of Portland.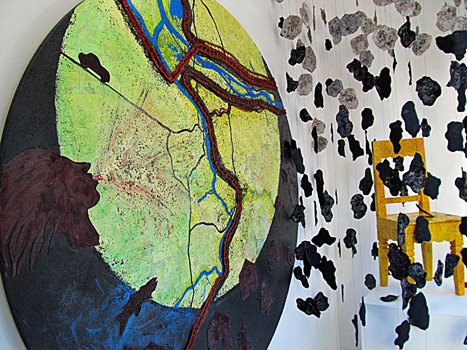 Oregon Public
Broadcasting Video
VOICES OF COAL series
Artist Turned Activist
see video here
2012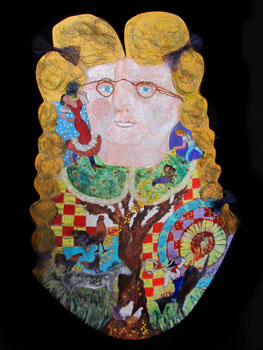 November 9, 7:30
CRAZY JANE COLLABORATION CONCERT
Bonnie Meltzer has created an artwork with inspiration from Idaho Toccata by composer Cynthia Gerdes. Both were shown/heard at the performance of women of Cascadia Composers (local chapter of NACUSA).
Colonial Heights Presbyterian Church
2828 SE Stevens Street, Portland
More about the concert here
See more pix here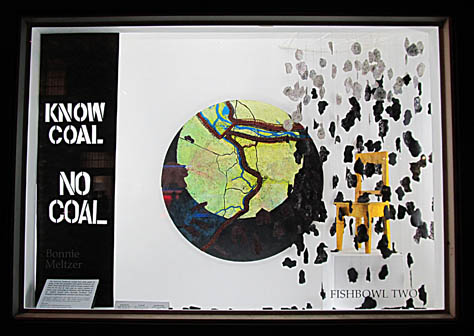 October 2012
Know Coal NO Coal
Window Installation
Blackfish Gallery
Portland, Oregon
Bonnie Meltzer has been totally involved in stopping the coal export that has been proposed to come through the Northwest (5 blocks from her home & garden) on their way to Asia from the Powder River Basin in Wyoming. Blackfish Gallery invited her to make a coal installation in one of their windows. Some photos here.
Coal export info and news on North Portland Coal Committee Facebook page here.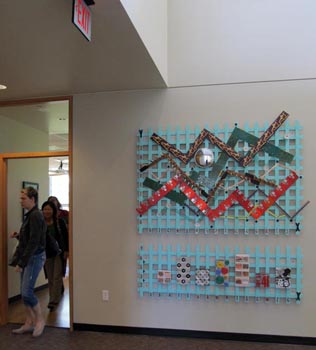 Oregon Episcopal School Sculpture Project
A wall sculpture for the Science and Math building was desgned and constructed by Meltzer with the help of 10 OES students. Almost all of the materials are found objects consisting mostly of computer and musical instument parts. Found wood lattice became a major part of the design and gave inspiration to the graph theme.
See pictues of the artwork and the process on Facebook here

2011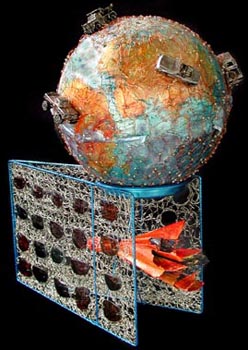 Global Warming
December 2 - 31,2011

Welcome to My World:
Artists Interpret the Globe
23 Sandy Gallery

An invitational show co-curated by Robert Tomlinson and 23 Sandy. Each artist found a globe and altered it to create an artwork.

Participating aritsts include: Mary Bennett, Allison Bruns, Chandra Cerrito, David Chelsea, Sue Collard, Anna and Leo Daedalus with Samuel Miller, Kerry Davis, Tamara English, Adrianne Feldstein, Linda Hutchins, Heidi Kirkpatrick, Laura LeHew, David Meeker, Bonnie Meltzer, Jim Neidhardt, Cynthia Nawalinski, Jane Schiffhauer, Joanna Thomas, Robert Tomlinson, Renee Zangara.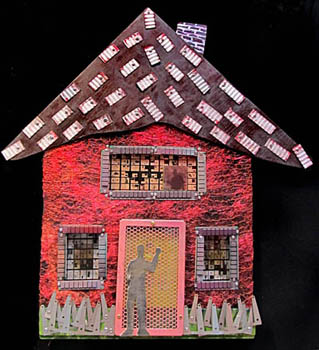 Memories Knock, Memories Answer........
December 2, 3, 4
Arts for Enlightenment
silent auction/fundraiser
to benefit Habitat for Humanity
Oregon Society of Artists
Portland, Oregon

featured artists Bonnie Meltzer, Cat Hargis, Ed Labadie & Martin Conley
Meltzer talk and demo
Sunday, December 3 @ 1pm
Bonnie Meltzer will have 11 artworks at the event. Several will use houses as a theme.

full press release HERE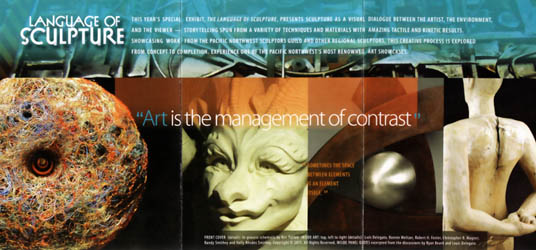 June 24, 25, 26
Lake Oswego Arts Festival
The language of Sculpture
group exhibition at
Lakewood Art Center
Crochet sculpture demonstration
Sunday, June 26 @ 3:30
Meltzer sculpture pictured on far left of invitation.
More info here
..2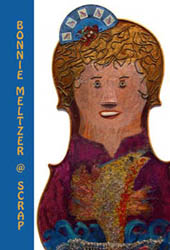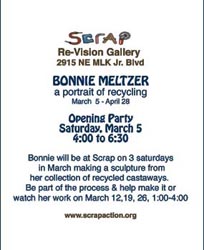 2010
...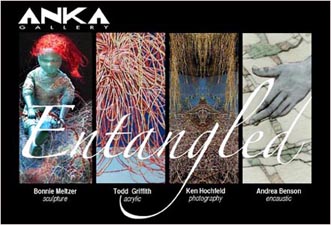 ..;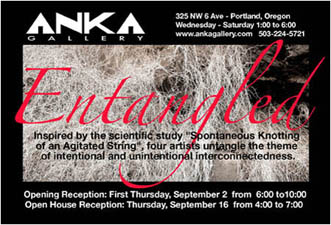 In addition to being a participant Meltzer also
curated this exhibition.